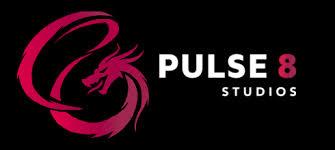 UK-based
Created in 2019
Provides games for Microgaming
Want to get
Pulse 8 Studios

games for your casino?
Pulse 8 Studios is an independent software development studio that provides Asia-themed video slot games exclusive for Microgaming and their casino platforms.
Pros :
Unique gaming philosophy and concept
HTML5-powered games
Top-notch graphics and audio effects
About Pulse 8 Studios
Pulse 8 Studios is an independent casino software development studio that creates Asian-themed games and whose entire concept is based on the ancient Eastern philosophy of the land of Xing. The studio draws inspiration from the three main foundation stones of this philosophy of the Dragon Pulse.
They are Fearless in creating progressive slot games with exciting game mechanics. They are also Ferocious in pursuit of new gaming solutions to power the content they create for Microgaming. And finally, Pulse 8 Studios is Enigmatic, as they constantly seek new themes to diversify the gaming content.

As we briefly mentioned, Pulse 8 Studios creates slot games exclusively for Microgaming and its partners as one of many independent studios that work for Microgaming.
The gaming offer from Pulse 8 Studios might be limited in number, but you will certainly get exclusive gaming experience from them. Namely, there are five video slot games in their portfolio, all of which have been produced in HTML5 technology to support a smooth and immersive gaming experience on both desktop and mobile devices.

Their first release and probably the most famous one is Relic Seekers that takes you on an adventure worthy of Indiana Jones. You will explore caves, pyramids, and dungeons in the search of considerable payouts. Pulse 8 Studios uses exciting game mechanics that include various bonus features, such as free spins, multipliers, and a proprietary Rolling Reels™ feature.

The only flaw we can notice in Pulse 8 Studios is the fact that their gaming portfolio is not frequently refreshed with new titles, which might have to do with the scheduling arrangements from Microgaming. Still, the gaming portfolio from Pulse 8 Studios is intriguing and will continue to be a fan-favourite.