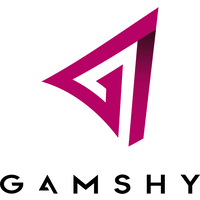 Established in 2016
Omnichannel games
Italian-based casino game provider
Want to get
Gamshy

games for your casino?
Gamshy is one of the newest providers of betting and gaming software in the industry. This Italian-based provider offers several fantastic titles characterised by innovation and superb graphics.
Pros :
HTML5 titles
Unique-looking titles
Innovative approach
Verified by two game labs
Cons :
No table and live casino games
A relatively small library
About Gamshy
Gamshy is headquartered in the heart of Italy, Rome, and while they are one of the newest kids on the block, they had no issues entering the fray and playing with the big boys straight off the bat. Namely, the company was established in 2016 and they immediately started producing innovative casino games.

Ever since their inception, Gamshy's purpose was to create games that can be played in alternative ways while focusing on playability and accessibility as the centre of their design process. Today, they are a real gaming lab, and all of their titles are an excellent example of what happens when engineering is combined with design, creating a basis for a revolution in iGaming.

Their graphics department is supported by the most powerful and newest software available on the market, allowing them to continuously produce games characterised by outstanding visuals, as well as audio effects.

In addition to creating titles with smooth gameplay, their games are designed to entertain players. What's more, Gamshy is certified by the two most reputable gaming labs, iTech Labs and BMM Testlabs, ensuring that their games are fair and ready for integration.
Gamshy is a relatively young software company but has already managed to make a name for itself thanks to exciting gaming content and software solutions. These are the highlight moments of their history:
2016 — Gamshy was established
2017 — Gamshy released first 3D slot games: Bad Monsters, Kraken Island, and Sweet Maniacs
2017 — Gamshy is licensed by BMM Testlabs and iTech Labs, two of the leading independent testing agencies
2018 — Gamshy launched its proprietary gaming platform Engy
2019 — Gamshy released four more games
Information About Management
Gamshy is a privately held online casino software development company with Andrea Sipone, CEO, at the helm. The company's projected revenue is around $9 million per year. The company is based in Rome.

Andrea Sipone, CEO
Giorgio Mikas, Manager of Sales
Maddalena La Rocca, VFX Producer & Rigger
Gamshy has not won any awards yet, but their CEO Andrea Sipone has been nominated for the Best Industry Rising Stars award at the 2019 G2E Asia Awards.

While Gamshy is able to deliver excellent games, their current gaming portfolio includes only several titles. However, keep in mind this is because the company is still young — their gaming library was developed in less than three years.

At the moment, operators that decide to add Gamshy to their casino platforms will gain access to nine titles in total. Gamshy doesn't offer table and live casino games since they are entirely focused on developing video slots. Despite their relatively small game library, an important thing to note is that Gamshy continuously develops new titles, which means operators will have access to new games as soon as they get released.

Gamshy stands out from the crowd by delivering unique-looking titles. By mixing 2D and 3D graphics visuals, they create traditional titles with revolutionary design, which has become one of their main characteristics.

They are best known for trying to take an innovative approach and add a unique twist to their titles. What's more, all of their games are cross-platform and designed in HTML5, allowing them to adapt to any device.

The easiest and fastest way to add Gamshy's games to your casino library is through SoftGamings' unified API. Our platform is designed to provide operators with seamless integration. Through just one integration process, casino operators can gain access to Gamshy's titles.

In addition, our unified API gives you access to more than 60 other software providers and over 3000 games available on our platform.
While Gamshy continuously increases the portfolio of their games, they already have a few excellent titles under their belt. If you would like to learn more, we've prepared a quick preview of some of their most popular titles.

Tubolarium is one of the most unconventional video slots. Instead of your everyday symbols, the game comes with tubes. In order to win, a player needs to hit a combination that allows the liquid to flow from the tank to the prize boxes. The ingenious design is guaranteed to provide you with endless fun. To make things even better, Tubolarium comes with free spins and multipliers, both of which are highly rewarding. And radioactive!

Ahoy, Mateys! Kraken Island takes you on an adventure to an island said to hide pirate treasures. Each spin of the reels uncovers a small parchment of the map and brings you closer to your goal. The game is played on a standard playing grid of 5 reels and 3 rows of symbols and comes with 27 paylines. To make things even more exciting, Kraken Island comes with a bonus game, free spins, and much more!

Jumping Sushi is a beautiful video slot that comes with adorable symbols and enchanting oriental music. The gameplay is set in front of a dojo, and it features sushi samurais, sushi peasants, sushi ninjas, sushi-everything! It is played on a 5×3 playing grid and comes with wild symbols, scatters, and 27 paylines. In addition, Jumping Sushi has a free spins bonus game that can net you a 9x multiplier for some insane payouts.

Inferno is one of the newest releases by Gamshy that will take you to the deepest pits of hell. Not to worry, though, with some luck, you can ascend to the very gates of Eden! Inferno comes packed with bonus features. It has two bonus games, each of which has its very own features.
The game comes with 23 paylines and is played across the standard playing grid comprised of 5 reels and 3 rows of symbols. In addition, there are two more bonus features you can trigger during the main game, which makes Inferno's gameplay as hot as its title.
To ensure the smoothest and best gaming experience, Gamshy uses numerous state-of-the-art technologies and techniques, allowing their games to be produced with the highest availability and massive scalability.

One of the most notable technologies Gamshy used in the development of their titles is HTML5, which is a starting platform for all of their games.
By using HTML5 to create titles, Gamshy ensures availability across all platforms. All of their games are cross-platform and can be played on desktop and laptop computers, smartphones, as well as tablet devices. What's more, the games' display scales in size to fit every device, ensuring maximum entertainment regardless of the device you are playing on.

Gamshy adds various bonuses to their games, all of which vary from one title to another. Depending on the game they're playing, players can take advantage of free spins features, multipliers, numerous bonus games, and more.

Gamshy's games are both secure and credible. The fairness of their titles has been certified by iTech Labs and BMM Testlabs, the two most reputable testing laboratories that verify RNG of casino games.

Italy
Via Franco Becci 14 Rome, Rome 00139, IT
Gamshy is an Italian casino game developer.
2. What types of products does Gamshy offer?
Gamshy is entirely focused on creating video slot games.
3.Are Gamshy's games fair?
Yes, they are! Their games are certified by both iTech Labs and BMM Testlabs.
4. Why integrate Gamshy through SoftGamings?
SoftGamings' unified API integration is well-thought-out in order to seamlessly integrate innovative video slots from Gamshy into any casino. The expert team at SoftGamings is responsible for overseeing operators' daily requests, while skilled customer support specialists are always on the alert to solve potential issues and respond to routine queries. The customer support team is available and accessible round the clock.