2017 is rich with gambling-related events. We have selected 8 that are worth your attention. Read more on each and don't miss your chance to visit those that are about to come!
London ICE Totally Gaming
From February 7 to 9, 2017, an international gambling forum London ICE Totally Gaming took place in ExCeL, London: probably, the most significant event in the igaming world. It attracts representatives of all branches of the industry – from providers to regulators. It is a place to meet new people and start cooperation, an educational platform, a place to participate in debates, a trade platform and simply a place to spend good time at.
As Oliver Bartlett from the GVC Holdings Plc commented on the event: "There's no better stage than ICE to meet, negotiate and network with our entire industry. ICE continues to be the only permanent fixture in my exhibition calendar".
This B2B event brings together international online and offline sectors of the igaming industry. It is the most scalable igaming event in terms of both attendance and opportunities. It is organized by Clarion Gaming, a company whose events are attended by 30 000 people from all over the globe annually.
In 2017, the exhibition featured stands of such brands as: Nyx, Bingo Dinamico, 3Bet Gaming, Habanero, Endorphina, SpotOption, Alderney eGambling, SimilarWeb, iGaming Cloud, Red Tiger Gaming, Bingo Boom, IBM, Novomatic, Playtech, Bwin, Planetwin 365 and others.
The next forum will be held from 6 to 8 February, 2018.
---
From July 4 to 6, an annual igaming summit took place in Barcelona. The World GES was the 11th conference in a row. The event is famous not only with reputable experts of the industry coming to it from all over the globe, but also with its networking: visitors take part in beach barbeques, gala dinners, pool parties and buffet dinners.
This year, over 80 representatives of the igaming industry shared their experience in the promotion and innovations of land-based and internet gambling at World Gaming Executive Summit.
A special focus was made on multichannel, player retention, loyalty programs and millennials as a target audience.
Among speakers you could find Mor Weizer, CEO at Playtech, Kristian Nylen, CEO at Kambi, Magnus von Zitzewitz, Board member at Lotto24.
The event sponsors were represented by more than 20 companies, among which there were Microgaming, Alderney Gambling Commission, Emirat, Red Tiger and more.
---
Russian Gaming Week is the largest gambling forum in post-soviet space, taking place annually in Moscow. This year, the exhibition unfolded in 7-8 June in the "Sokolniki" congress and exhibition center.
The organizer of the event – an international company Smile-Expo – specializes in organizing large-scale business events. During 11 years of work, the company arranged over 200 events in 12 countries, including Russian Gaming Week.
In total, 11 Russian Gaming Week events have been held since 2006. Each year, the exhibition space is filled with thousands of attendees, among whom there are reputable experts of the industry from all around the world – bookmakers, online casino operators, marketing specialists and developers.
The success of the forum is ensured by the skillful work of organizers, who strive to hold the event on the highest level. As pointed out by Anna Lastovka, the Director of Exhibitions, the goal of Smile-Expo is to 'become an effective business platform for cooperation, experience exchange and innovations', which has been implemented at Russian Gaming Week.
During the two days of the event visitors learned about B2B solutions in the bookmaker business, match fixing, target allocation to develop eSports, new advertising tools for sportsbooks, the popularity of online business in Malta, affiliate platforms, how to make sports forecasts and much more.
---
iGaming Super Show
From June 11 to 14,a grandiose event of the igaming industry was held in Ramada Apollo hotel, the biggest exhibition space of Amsterdam: iGaming Super Show 2017.
It is one of the most significant events in the gambling world, as pointed not only by organizers but also by attendees: 8 out of 10 people evaluated iGaming Super Show as the leading forum in the industry.
This is not the opinion of a small group of people. Thousands of people attend the conference annually: in 2017, the number was 4,718, among whom there were operators, affiliates, providers, representatives of media and igaming regulators.
Participants came 105 countries of the world. The biggest number of people came from the UK, the Netherlands, Malta, Israel, Cyprus, Germany, Ukraine, Sweden, Russia and Spain.
In 4 conference halls, 45 sessions were held, in which participated over 100 operators, including Richard Misfud, Director of Kootac Trading Ltd, Priya Thakoor, Head of Digital Strategies at Barclays Africa Group Limited, Julian Borg Barthet, Director of Business Development at NMI, Jake Pollard, Head of online content at iGaming Business and dozens of others.
One of the distinctive features of the event was the fact that it was comprised of 8 smaller events. These included lectures on finance, management, marketing, legal issues, technology, payments, sportsbooks, lotteries etc. Besides, visitors participated in networking and established hundreds of new contacts.
---
On 12 September, in OXO2 Tower in London, an international igaming forum was held and it gathered over 120 representatives of the gambling industry in Europe.
Among attendees – operators, providers and representatives of state officials, including the UK Gambling Commission, SABMiller, Playtech, BetConstruct, Harris Hagan, Sky Betting & Gaming, Camelot and many more.
The event has become an important part of gambling event of 2017. According to the opinion of Sadie Walters, the manager of the conference and a representative of Clarion Gaming, WrB London 2017 was the event not to miss, since it covered such serious topics as responsible gambling business and new technological and conceptual approaches in the industry.
Among speakers – representatives of Camelot UK Lotteries Ltd, Mr. Green Casino and other gaming companies.
BetConstruct, Playtech, SBtech were among the sponsors of the conference.
In 2018, the forum will be held in Uganda.

---
Riga Gaming Congress is a new international gambling event which will be held on October 12 in Bellevue Park Hotel in RIga, Latvia. It is devoted to innovative technologies and presentations of new products.
Organized by Smile-Expo, like Russian Gaming Week, the event gathers leading representatives of the European igaming market – igaming business consultants, marketing companies' CEOs and lawyers, who will share about the modern tendencies on the igaming market.
Francesko Baranca, the Head of the Federbet association, will tell about the struggle against unfair players and real values of eSports.
Max Krupyshev, a cofounder of the Cubits bitcoin platform, will share about the cryptocurrency working principle.
Alexandra Fetisova, Project Manager at DAD.CASINO, will tell about Ethereum cryptocurrency and its role in the igaming industry.
In addition, visitors will be able to get acquainted with innovative products of CASEXE, Slotegrator, Axioma and other companies in demozone.
---
Excellence in IGaming
The event will be held in Arena Berlin, from October 30 to November 1. Organizers inform us that the most topical trends of this year will be touched upon within the framework of the congress, partly because of cooperation with iGaming Industry Council (iGIC).
The event will consist of three parts: exhibition, conference and a workshop on using cryptocurrencies from Totally Gaming Academy.
As tradition goes, the main brands of the igaming industry will be presented in the exhibition, however, this year, there will also be startups. EiG made special effort to attract operators from regional and emerging markets. Moreover, participants will be able to hear information from experts who are not directly connected to the gambling industry, which is a rare occasion at such events.
Among well-known brands attendees will find Microgaming, PokerStars, Habanero and more. In total, it is expected to have 2000 attendees at the exhibition, including operators of land-based and online casinos, sportsbooks, regulators, startup owners, consultants etc.
One of the speakers, Cianan Clansy, Global Innovative Strategies Manager at Paddy Power Group, commented on the upcoming event: "Pulsating, innovative and thought provoking. Once again EiG has set the bar extremely high with a mix of fascinating national and international speakers and dynamic, topical, fast-paced panel discussions. All this combined with excellent networking opportunities and top-class exhibitors ensured EiG continues to be a calendar-must for all those in the gaming sector who want to stay ahead."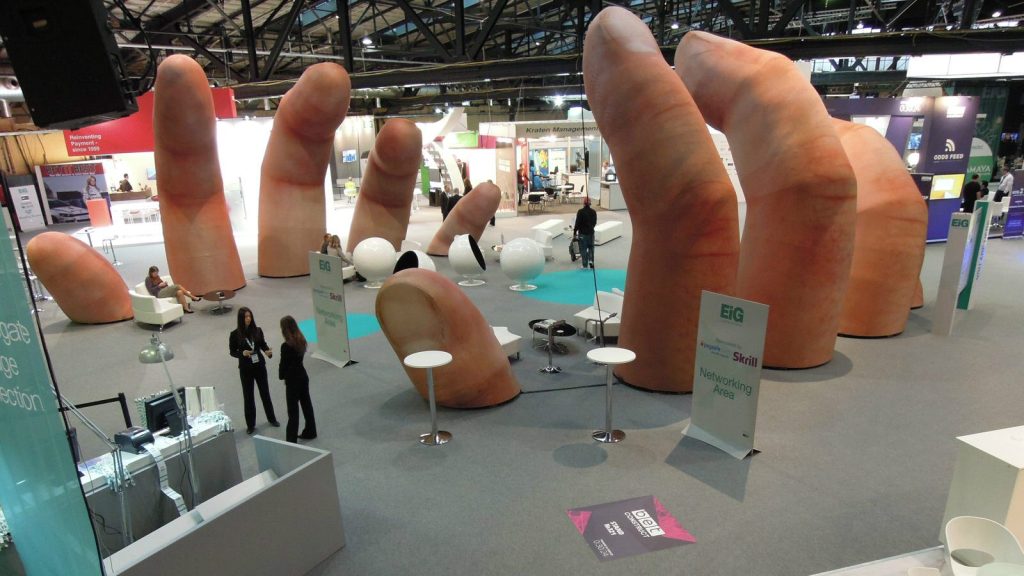 ---
The biggest regional event of the igaming industry will unfold in Africa, namely Johannesburg, the capital of South Africa. The conference will be held on November 7 – 8 in Emperors Palace.
The goal of the event is to attract players' attention to African gambling market, since this region has great opportunities for development. This is the continent where new technologies are rapidly adopted and connections with international partners and clients are established.
Among the main topics of the forum will be cybersports competitions, regulatory policies in Africa, anti- money-laundering actions and other issues.
Numerous companies will take part in the event, including Sunbet, BTOBet, Borden Technology and BetConstruct, also, such industry experts as Alan Weinrib, Executive Director at Web Gaming Consultants South Africa, Dean Finder, Main Operational Director at Betting World, Tiyani Nghonyama, Main Operational Director at Geekulcha South Africa.
At the end of the event, a ceremony of awards with unusual nominations will be held: Lion prize, Cheetah prize, Buffalo prize, Rhino Prize and Elephant prize.