Any action sports fan will tell you how hard it is to find a great slot game inspired by their adventurous hobby. That's why Play'n GO has decided to take the lead and introduce USA Flip.

This might not be what you had in mind when you thought of adventurous sports, but trust us — this is exactly what you need. The game is entirely USA-centred, with a bald eagle as the main and titular character, Flip. The light from a sold-out stadium adds to the overall atmosphere, but Flip still takes centre stage as he gets ready to jump into eternal glory. He can either take home the winner's crown and the prize money that comes along or surrender in defeat.

The game allows players to feel the rush and adrenaline of this fast-paced sport as they pump the gas around the stadium and spin the reels towards a great win.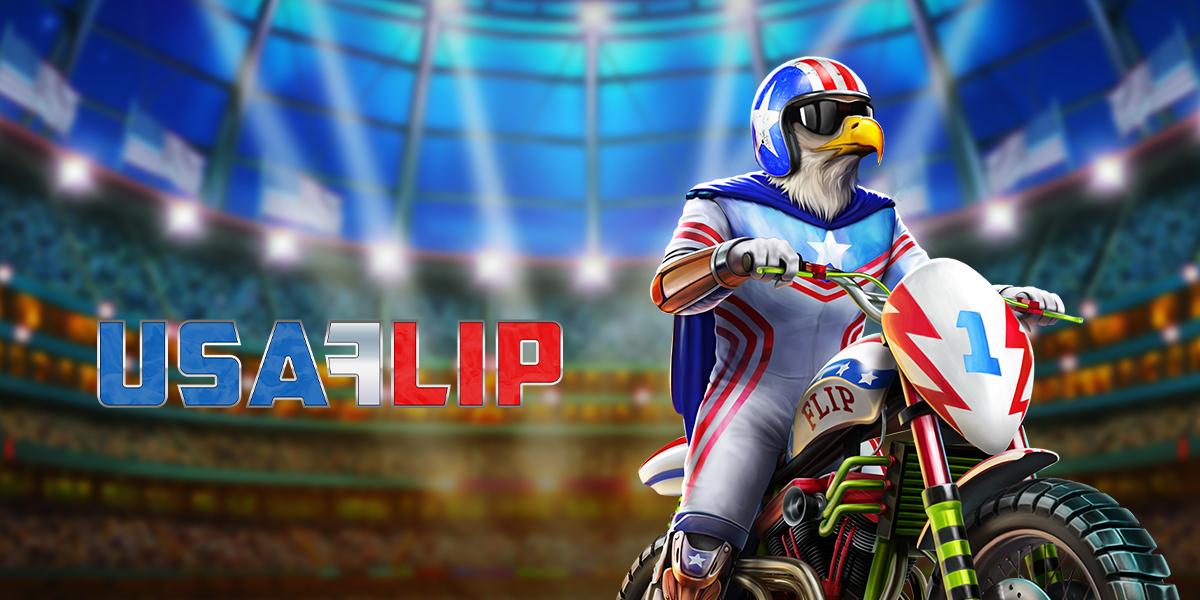 USA Flip comes with a terrific free spins round that reflects the slot's main theme. Basically, the course will do a full 180-degree flip — expanding and walking wilds will change sides with high-paying symbols at the end of the grid, which will lead to stacked wins.

If you remember the fan favourite Super Flip, then you'll recognise the game mechanics in this slot release, as well. Players will get to explore many winning possibilities, especially due to the new Near Win respin feature that won't let them despair if there are a couple of misses on Flip's most challenging tricks. So, when a stack of symbols misses one reel, the respin will allow you the chance to score a huge win.
Additional information
This news item is about game provider PlaynGo. You can get more information on this provider.
If you are interested in getting games of this provider on your casino site, please click the button below.
Flip's wings will help you lead the way and fly around the base game while stacking up on high-paying symbols before going on to the next feature-packed round.
Play'n GO has boosted its growing portfolio with this release that invites players to a rewarding sport-filled virtual world where they can enjoy all the glory of a packed stadium. The game's competitiveness embodies the true American spirit, along with great entertainment.
This release marks the provider's entry into the USA market after the provider received its license to operate in Michigan and New Jersey.
Charlotte Miliziano, head of games at Play'n GO, has said that the game is a true representation of how the operator creates diverse and different slot games that tend to stand out. She has added that USA Flip takes players on an adventure, and the new feature builds suspense and creates a unique storyline that players enjoy.