If you think about it, player retention should not be the main topic for discussion for a newly launched casino. The argument would go that a new casino should focus on player acquisition, and player retention should come much later: when the casino has built confidence in attracting new players, has tested its processes, its payment systems, its support and so on. Once the player base is in tens of thousands, retention processes and strategies can be employed for player activation and retention.
Types of Jackpots
Progressive jackpot appears to be a prize pool accumulating small percentage deductions of each bet placed. Consequently, every time the gamblers clicks the "Spin" button on the licensed NetEnt soft from 1% to 5% of the bet is added to the total amount.Considering the fact the chances of winning such a sizable amount of money are quite small, But most of the solutions have several jackpot types. The smaller the value the higher the chances of winning.
E.g. "Mega Fortune" allows the person to win one of the 3 jackpots: Mega — accumulating 5,39% of each bet; Major — 1,1%; Rapid — 1%. The current jackpot value is always shown on top of the screen. The opportunity to hit that jackpot appears during the bonus game. The player has to reach the center of the wheel containing the "Mega Jackpot" area.

"Cosmic Fortune" slot offers 5 progressive jackpots simultaneously. Deductions vary from 1% to 3,8%. The jackpots are drawn during the bonus round that may remind pinball.

"Caribbean Stud Poker" offers another kind of jackpot. It accumulates not the percentage deductions but special side bets of €1. Therefore, the jackpot grows slower. It's paid only to the gambler who got "Royal Flush". The other poker combinations ("3 of a kind" or higher) will bring the gambler a fixed odds bonuses.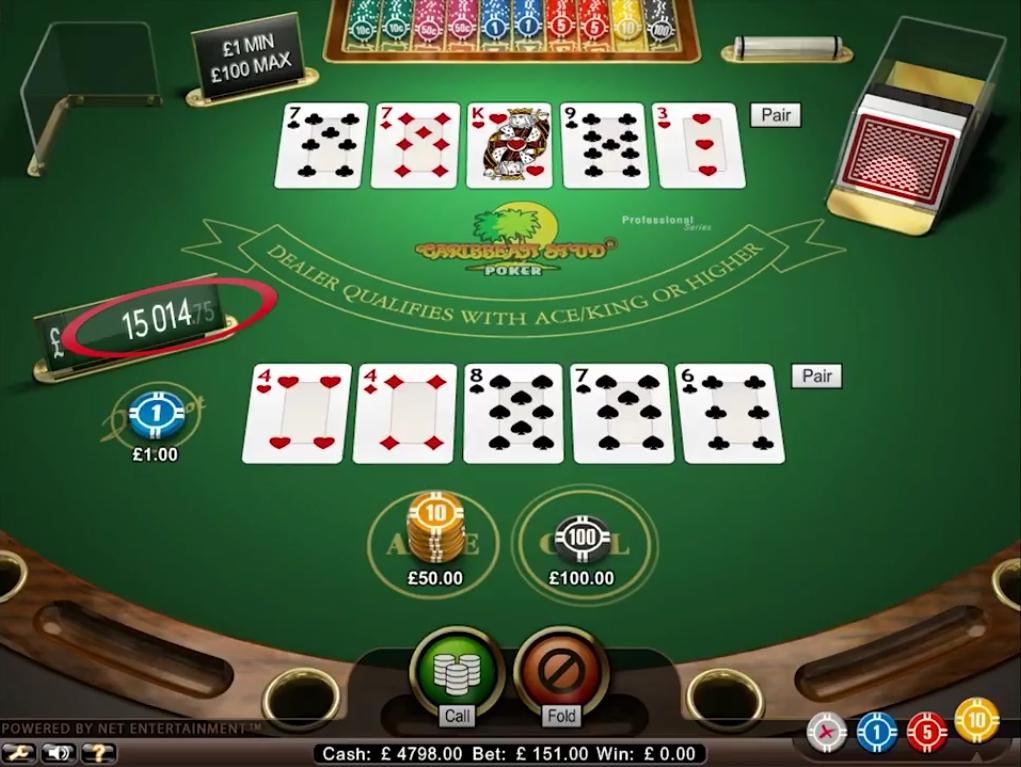 Records
"Mega Fortune" got two mentions in the Guinness World Records: the highest online slot payout — €17,86 mln. and the highest mobile payout — €8,6 mln.
Local and Pooled jackpots
Progressives are either local or pooled. The local one combines deductions (in %) of each bet in a separate casino. Pooled ones are formed the same way but they accumulate the money from all online & brick and mortar casinos using NetEnt's licensed soft.Local jackpots are always smaller. Despite that, they're still popular among the gamblers because it's easier to win.
If you're looking for a game offering a pooled jackpot only, "Arabian Nights" is your pick. It's among four most popular progressive jackpots powered by NetEnt.
To hit that mega win the gambler needs to form an active payout line with 5 joker-genies.

The list of games equipped only with local jackpots has more names in it. Including "Super Lucky Frog", "Caribbean Stud Poker", "Mega Joker", "Cosmic Fortune", and "Divine Fortune". Most of these games offer several jackpots simultaneously, which are distinguished by the deductions' percentage.

The most profitable jackpot for the modern operators is certainly the "mixed" one. Like "Mega Fortune" or "Hall of Gods". These games offer a "Mega" jackpot (which is pooled) & all of the others are local.

Graphs & Statistics
The checklist of the most claimed NetEnt's progressive jackpots consists of "Arabian Nights", "Hall of Gods", "Mega Fortune" and its "Dreams" version. Gambling those in 2017 the gamesters all over the world won 321 jackpot with a total payout of €78,3 mln.At the same time, NetEnt's progressive jackpots remain a great tool for each operator helping to attract the new visitors and keep the target audience engaged (especially high rollers). The best part of offering pooled jackpots is that they are completely risk-free. The jackpots grow from the contributions collected from players' bets. Every time a player places a bet on a given jackpot slot in any of the casinos across the network of pooled jackpots, the prize total will rise, making your casino more appealing than ever before.
Once the gambler hit the jackpot or won a pot of money, (s)he will definitely return to the casino that brought him/her luck. On top of that, it's highly likely (s)he will recommend this casino to others. And considering the fact that NetEnt's payout scheme is both fair and profitable (90% of the amount is paid by the network and 10% — by the operator) NetEnt's progressive jackpot games can become a value-enhancing investment.
Average time between the wins / Average win
Arabian Nights

77 days / €1,683 mln

Caribbean Stud Poker

519 days / €192 K

Cosmic Fortune

60 days / €80,1 K

Divine Fortune

70 days / €218 K

Hall of Gods

190 days / €5,4 mln

Mega Fortune

60 days / €4,7 mln

Mega Fortune Dreams

60 days / €3,7 mln

Mega Joker

28 days / €17,7 K

Super Lucky Frog

353 days / €40 K
| | | |
| --- | --- | --- |
| Title | Average time between the wins | Average win |
| Arabian Nights | 77 days | €1,683 mln |
| Caribbean Stud Poker | 519 days | €192 K |
| Cosmic Fortune | 60 days | €80,1 K |
| Divine Fortune | 70 days | €218 K |
| Hall of Gods | 190 days | €5,4 mln |
| Mega Fortune | 60 days | €4,7 mln |
| Mega Fortune Dreams | 60 days | €3,7 mln |
| Mega Joker | 28 days | €17,7 K |
| Super Lucky Frog | 353 days | €40 K |
Winning a jackpot
When it comes to progressives, the "Glory days" started in 2011, when the "Mega Fortune" slot appeared in the Guinness Book of Records and brought the lucky man a win of €11,7 mln.This record didn't stay for long, though. In 2013 it was topped and the payout of €17,86 mln. a Finnish player has received still stays the highest.
Anyways, not only "Mega Fortune" slot has a power to turn gamblers into millionaires. The other games are just as profitable. In 2012 a gambler from Sweden has received a payout of €7,82 mln. ("Hall of Gods" slot). The same year "Arabian Nights" slot brought a mega win to a "Paf Casino" user — €8,63 mln. and "Mega Fortune Dreams" — €5,5 mln.   In 2020, NetEnt's Mega Fortune once again proved to be a millionaire-maker slot, with a €2.6 million jackpot prize paid to another Swedish player.
A gambler's lure!
How to add NetEnt's games to your casino?
If NetEnt's progressive jackpots still somehow are not a part of your casino's portfolio, you have an opportunity to fix it immediately and significantly increase the level of engagement. You can do it just by booking one (or several) of the following services provided by Softgamings."Slots Bundle" unites the most popular slots developed by the most successful gambling providers from all over the world. NetEnt, Microgaming, Endorphina (more than 20 providers in total) can become a part of your casino in a matter of a few clicks.
Casino games integration is super profitable as the offer includes more than 3 000 games from more than 30 providers, gamification features and easy access via mobile devices.
In a nutshell, if the gambling masterpieces created by the Swedish provider still aren't working to make your casino more profitable and popular, it's up to you to change it with a few clicks and Softgamings team will take care of the rest of it.